Compatible Models
Compatible with ALL BMW CIC / NBT(ID4) / EVO(ID5/ID6)
If you don't know which system your BMW is, please click the link to confirm it: Which iDrive do I have? >
SKU
MODEL/YEAR

CPI-BM-CIC
iDrive CIC head unit with 6.5 / 8.8 / 10.25 inch OEM Screen (4 pin LVDS connector)


Installation Manual:


1 Series (E82 / E82 / E87 / E88) 2008-2014
1 Series (F20 / F21) 2011-2013
3 Series (E90 / E91 / E92 / E93) 2008-2013
3 Series (F30 / F31 / F34 / F80) 2012
5 Series (E60 / E61) 2008-2010
5 Series (F07 / F10 / F11) 2010-2012
6 Series (E63 / E64) 2008-2010
6 Series (F06 / F12 / F13) 2010-2013
7 Series (F01 / F02 / F03) 2008-2013
7 Series (F04) 2008-2015
X1 (E84) 2009-2015
X3 (F25) 2010-2013
X5 (E70) 2009-2013
X6 (E71) 2009-2014
Z4 (E89) 2009-present

CPI-BM-NBT
iDrive NBT (high CIC) & NBT-EVO ID4 head unit with 6.5 / 8.8 / 10.25 inch OEM Screen(6 pin LVDS connector)


Installation Manual:


1 Series (F20 / F21) 2013-2015
2 Series (F22) 2013-2015
3 Series (F30 / F31 / F34 / F80) 2012-2015
4 Series (F32 / F33 / F36) 2013-2015
5 Series (F07 / F10 / F11 / F18) 2012-2015
6 Series (F06 / F12 / F13) 2013-2016
7 Series (F01 / F02 / F03) 2012-2014
X3 (F25) 2013-2016
X4 (F26) 2014-2016
X5 (F15 / F85) 2014-2016
X6 (F16 / F86) 2014-2016

CPI-BM-EVO
iDrive EVO ID5 & ID6 head unit with 6.5 / 8.8 / 10.25 inch OEM Screen (6 pin LVDS connector)

Note. OEM touch will not work on the add-on interface


Installation Manual:

1 Series (F20 / F21) 2016-present
2 Series (F22 / F23) 2016-present
3 Series (F30 / F31 / F34 / F80) 2016-present
4 Series (F32 / F33 / F36) 2016-present
5 Series (G30) 2016-present
6 Series (G32) 2017-present
7 Series (G12) 2015-present
X3 (F25 / G01) 2017-present
X4 (F26) 2017-present
X5 (F15 / F85) 2017-present
X6 (F16 / F86) 2017-present
How does it work?

While the unit (CarPlay Kit) is inactive, the original video signal is passed unchanged and your car works as before. 

After activating the CarPlay Kit, the CarPlay Kit video signal is shown on the display instead. 
When you reverse the car while using the CarPlay system, the system will automatically switch to the camera without manual operation. You can easily switch system back and forth between the unit and your original head unit. 
(TIPS: Press and hold the "Menu" button to switch the system)
Features:
Apple CarPlay (wireless/wired)
Android Auto (wireless/wired)
ios Airplay (wireless screen mirror for iPhone)
Android Autolink (wired screen mirror for Android)
Front & Rear Camera input (PAL+NTSC)(Automatically switch)
HDMI input(720P)
USB multimedia playback (Lossless audio & FHD 1080P video)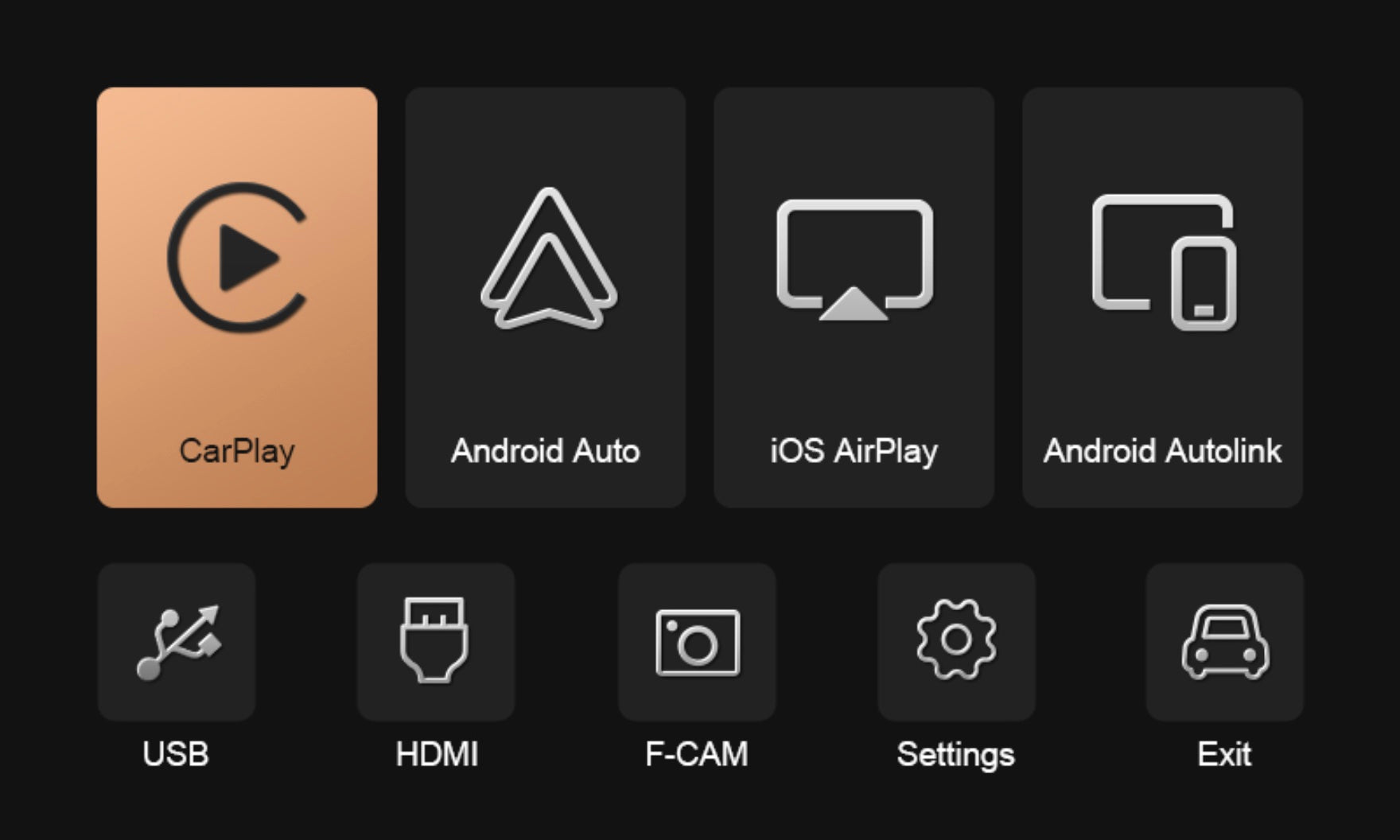 Product Details:

Built-in 5G and 2.4G WIFI for a stable connection
Built-in Bluetooth 4.0
Built-in DSP and adjustable volume for Navi, phone call, multimedia, and voice command system
Support PDC (Parking Distance Control) and FPG (Flexible Parking Guidelines), OEM parking style
Support both OEM microphone and add on the microphone
Support voice command control, OEM command system, and steering wheel control
Support both left and right drive mode
Support CarPlay icon and power on logo customization
Delivery Info:
Shipping Cost: Free Shipping
Carrier: USPS/FedEx/YunExpress
Delivery Time: about 7 days
Tax: No Tax


Packing list:
Package Size: 210mm × 60mm × 90mm
Package weight: 1kg
Apple CarPlay & Android Auto MMI Prime Kit For BMW CIC/NBT/EVO
Cost Effective Android Auto MMI
I'm happy with the efficient delivery to South Africa which took less than a week from dispatch. The MMI works brilliantly and I couldn't be happier. I can safely say I recommend it
CarPlay and backup camera
I recieved the CarPlay and installed it and don't have any issue but the backup camera was not recieved and it was a different item in the box which was a idrive control. I ask what to do with this wrong item that was sent to me and it was answered back for a different reason. I believe the guy who read my issue don't understand. And until now, this issue was not been resolve. And now I ordered again a back up camera which is on the way. Hope this will be a correct item. Please
Install in BMW E93 (328i convertible) experience
While there are many good install videos on YouTube for the BMW E90/91/92 none of those prepared me for installing it in an E93 (328i convertible). First of all, there is not space for the cable complex behind the CIC unit. You have to take out the CIC mount and move the bulk of the cables to the side (in my case the drivers side). The location of the microphone had me baffled for a bit. It is in an entirely different place then the other E series, it's in the steering wheel column. Once I identified that, installing the microphone was actually much easier. One thing I also did, after the 3rd reinstall, is run an USB extension cord from the unit to the center console, like the aux cable, for easier access. In short, the system is working as advertised but when you install it in an E93 it's going to be very tight.
Car play Android
Exactly what my boyfriend needed for his BMW. The communication with the company was perfect and shipping was fairly quick.