Regular price
$299.00 USD
Regular price
$299.00 USD
Sale price
$299.00 USD
Unit price
per
Sale
Sold out
FREE SHIPPING

Free international shipping! NO TAX/VAT, usually delivered in about 5-7 days.
30-DAY MONEY BACK GUARANTEE

WAKAA offers you a 30-day money back guarantee. If you are not satisfied with our products or services, you can return the product within 30 days after receiving it, and you can get your money back.
2-YEAR FULL WARRANTY

Enjoy peace of mind with a 2-year full warranty, ensuring the quality and reliability of our Completely Wireless CarPlay system.
PRISTINE QUALITY | 100% SATISFACTION

Our products have been tested, checked, improved, again and again to ensure a fitment as close as possible to OEM.
Share
Demo video:
Do you dream of using Apple Maps on your car screen or listening to Spotify through the BMW speakers? All this is possible with BMW CarPlay MMI.

CarPlay MMI is the next generation of our multimedia bridge that lets you connect your phone to your BMW or MINI either wirelessly or via cable. Fully integrated with the native iDrive display and controller, it feels and works just like OEM BMW Apple CarPlay. Now with even smoother software, new interface, and an HDMI port.

With plenty of apps at your fingertips you can choose whether you want to access your favorite music tracks via YouTube Music or Spotify, chat with your peers through WhatsApp or Messages, or take advantage of Google Maps and Waze while navigating through the city. Just pair up your iPhone wirelessly and you're good to go!

To conveniently control and switch between the apps you can use your iDrive's built-in controls, including iDrive controller, steering wheel buttons, Siri voice commands or touchscreen if your BMW features one.
Thanks to the additional BMW Android Auto support our upgrade also allows you to access all of your favorite smartphone apps as well. To control and switch between apps you can use the iDrive controller, Siri, or steering wheel buttons.

Please note that it is not possible to play audio from CarPlay or Android Auto apps and audio from native iDrive apps (including radio and navigation) at the same time.


Compatible Models:
Compatible with ALL BMW CIC / NBT(ID4) / EVO(ID5/ID6)
If you don't know which system your BMW is, please click the link to confirm it: Which iDrive do I have? >
SKU
MODEL/YEAR

CPI-BM-CIC
iDrive CIC head unit with 6.5 / 8.8 / 10.25 inch OEM Screen (4 pin LVDS connector)


Installation Manual:


1 Series (E82 / E82 / E87 / E88) 2008-2014
1 Series (F20 / F21) 2011-2013
3 Series (E90 / E91 / E92 / E93) 2008-2013
3 Series (F30 / F31 / F34 / F80) 2012
5 Series (E60 / E61) 2008-2010
5 Series (F07 / F10 / F11) 2010-2012
6 Series (E63 / E64) 2008-2010
6 Series (F06 / F12 / F13) 2010-2013
7 Series (F01 / F02 / F03) 2008-2013
7 Series (F04) 2008-2015
X1 (E84) 2009-2015
X3 (F25) 2010-2013
X5 (E70) 2009-2013
X6 (E71) 2009-2014
Z4 (E89) 2009-present

CPI-BM-NBT
iDrive NBT (high CIC) & NBT-EVO ID4 head unit with 6.5 / 8.8 / 10.25 inch OEM Screen(6 pin LVDS connector)


Installation Manual:


1 Series (F20 / F21) 2013-2015
2 Series (F22) 2013-2015
3 Series (F30 / F31 / F34 / F80) 2012-2015
4 Series (F32 / F33 / F36) 2013-2015
5 Series (F07 / F10 / F11 / F18) 2012-2015
6 Series (F06 / F12 / F13) 2013-2016
7 Series (F01 / F02 / F03) 2012-2014
X3 (F25) 2013-2016
X4 (F26) 2014-2016
X5 (F15 / F85) 2014-2016
X6 (F16 / F86) 2014-2016

CPI-BM-EVO
iDrive EVO ID5 & ID6 head unit with 6.5 / 8.8 / 10.25 inch OEM Screen (6 pin LVDS connector)

Note. OEM touch will not work on the add-on interface


Installation Manual:

1 Series (F20 / F21) 2016-present
2 Series (F22 / F23) 2016-present
3 Series (F30 / F31 / F34 / F80) 2016-present
4 Series (F32 / F33 / F36) 2016-present
5 Series (G30) 2016-present
6 Series (G32) 2017-present
7 Series (G12) 2015-present
X3 (F25 / G01) 2017-present
X4 (F26) 2017-present
X5 (F15 / F85) 2017-present
X6 (F16 / F86) 2017-present
How does it work?

While the unit (CarPlay Kit) is inactive, the original video signal is passed unchanged and your car works as before. 

After activating the CarPlay Kit, the CarPlay Kit video signal is shown on the display instead. 
When you reverse the car while using the CarPlay system, the system will automatically switch to the camera without manual operation. You can easily switch system back and forth between the unit and your original head unit. 
(TIPS: Press and hold the "Menu" button to switch the system)
Features:
Lets you safely use iPhone apps on your native iDrive display

Uses the factory car microphone to let Siri hear voice commands

Connects your iPhone wirelessly to the BMW iDrive system

Provides audio playback through your BMW's stereo system

Fully integrated with iDrive controller and dashboard screen

Apple CarPlay (wireless/wired)

Android Auto (wireless/wired)

Airplay (wireless screen mirror for iPhone)

Android Autolink (wired screen mirror for Android)

Front & Rear Camera input (PAL+NTSC)(Automatically switch)

HDMI input(720P)

USB multimedia playback (Lossless audio & FHD 1080P video)
Apple CarPlay MMI(UI)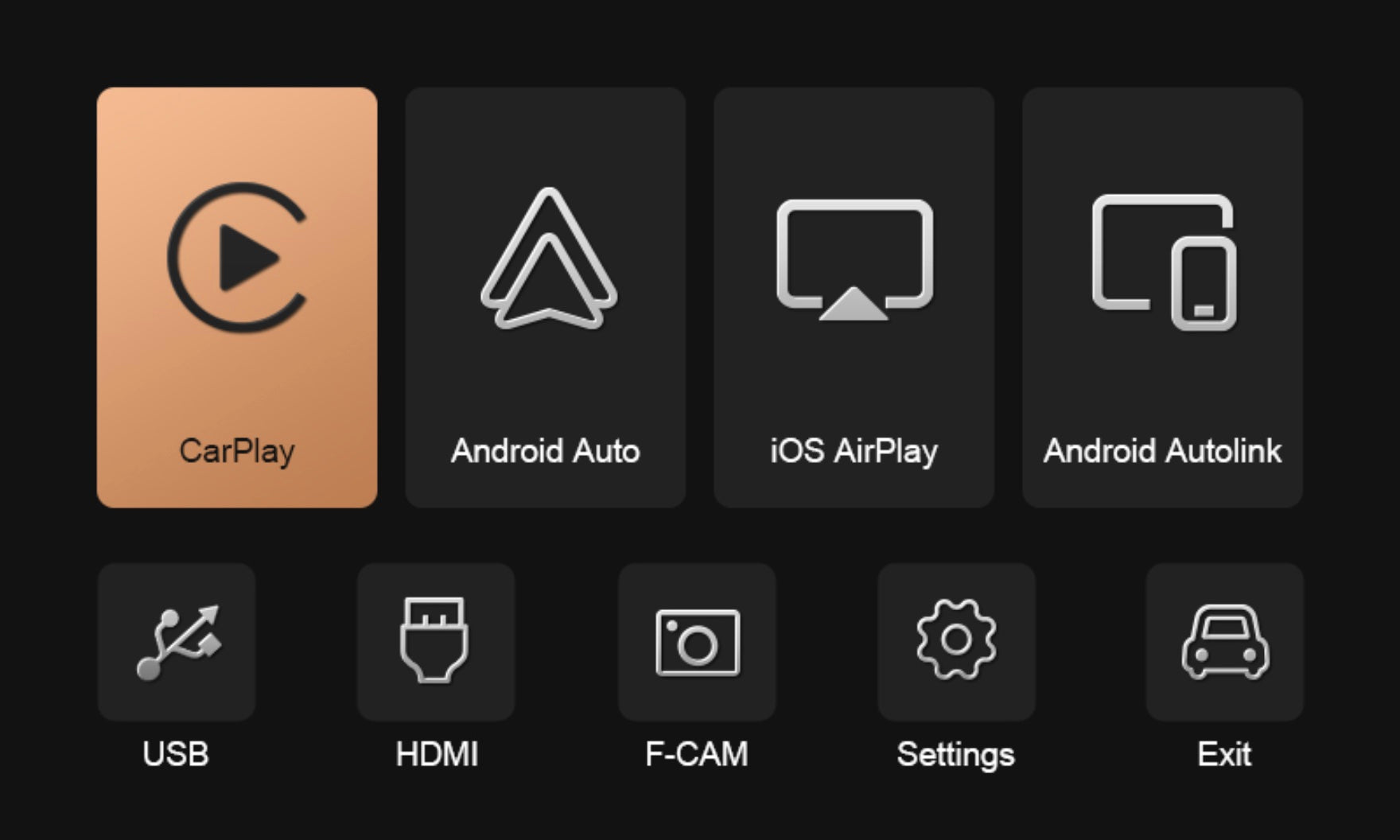 Packing list:
Package Size: 210mm × 60mm × 90mm
Package weight: 1kg
View full details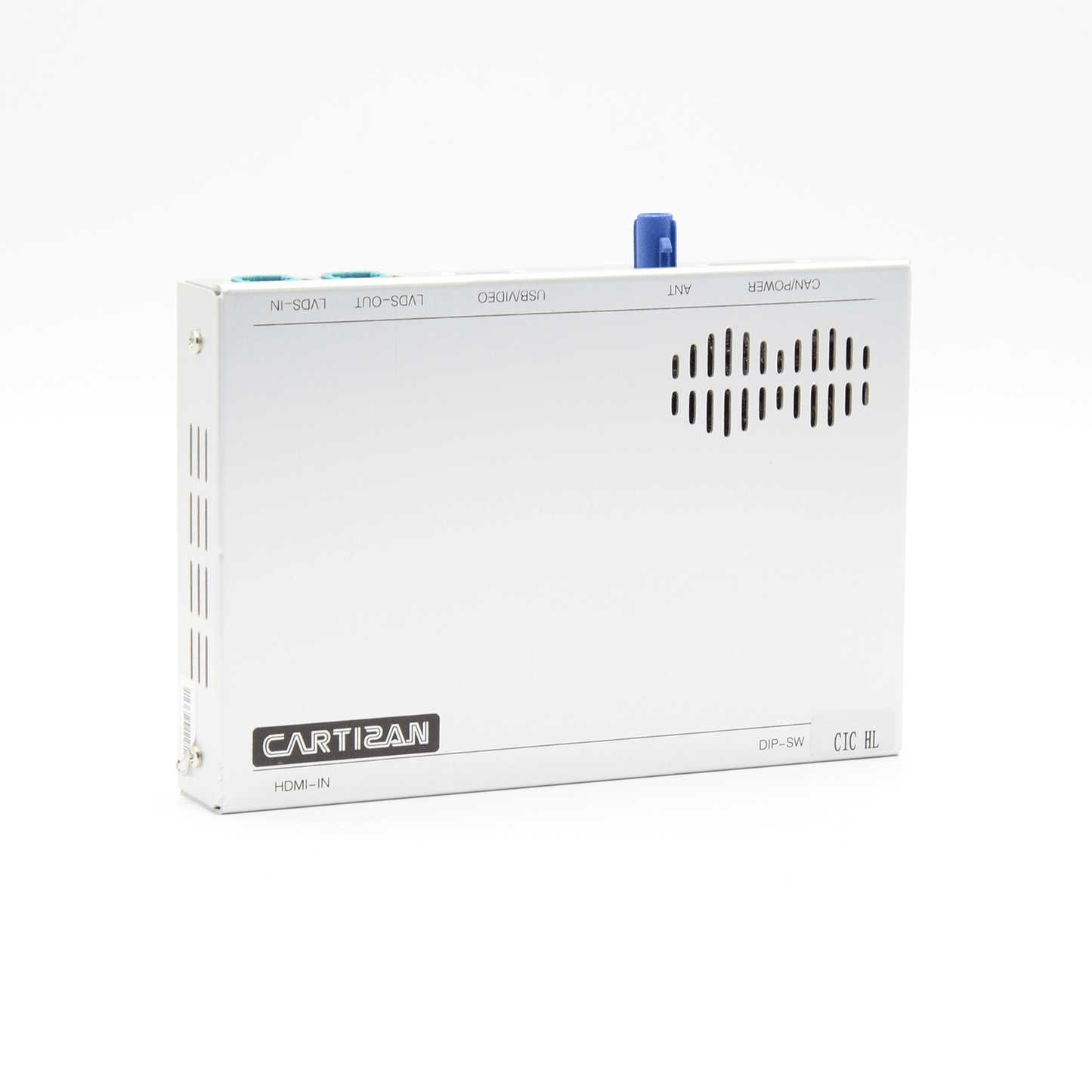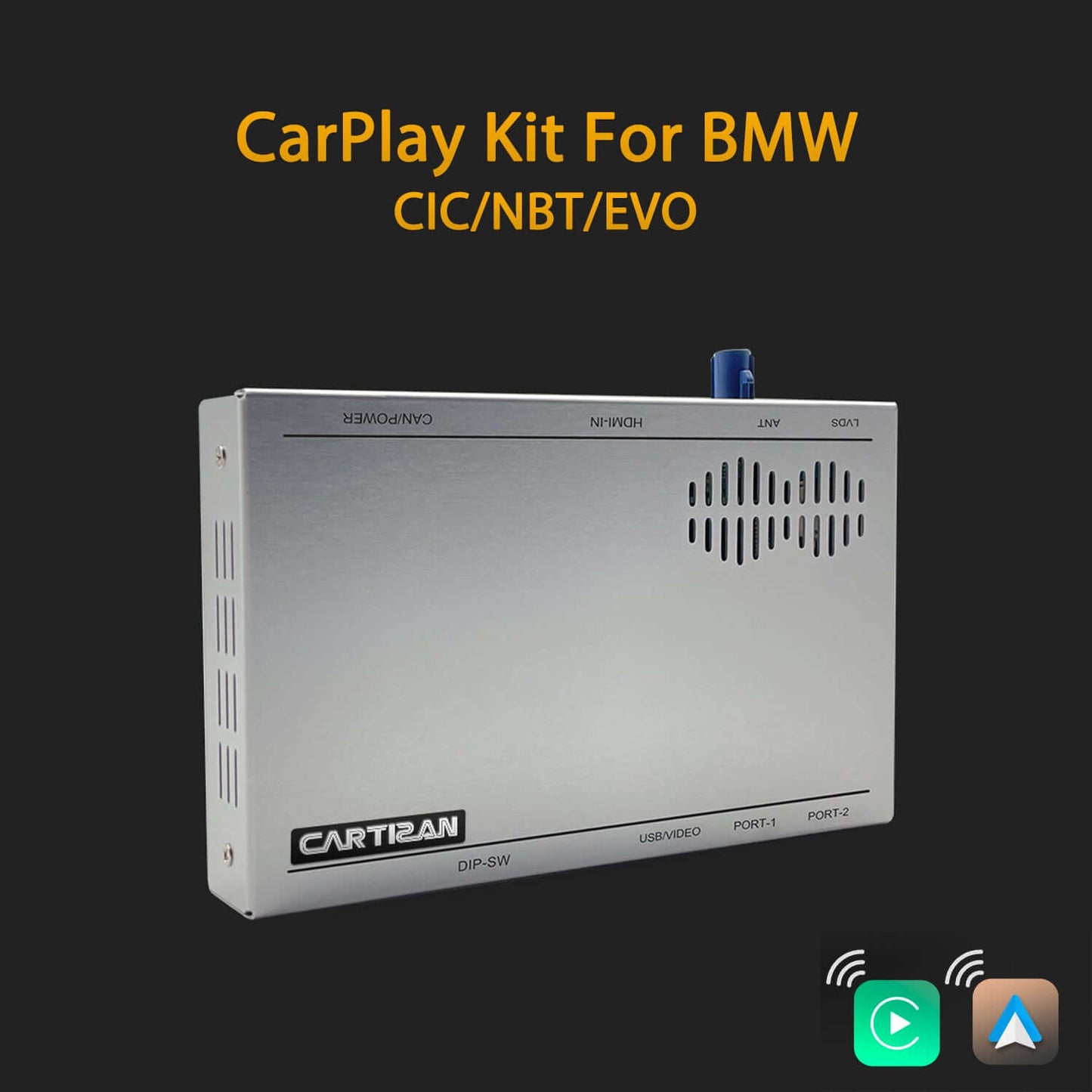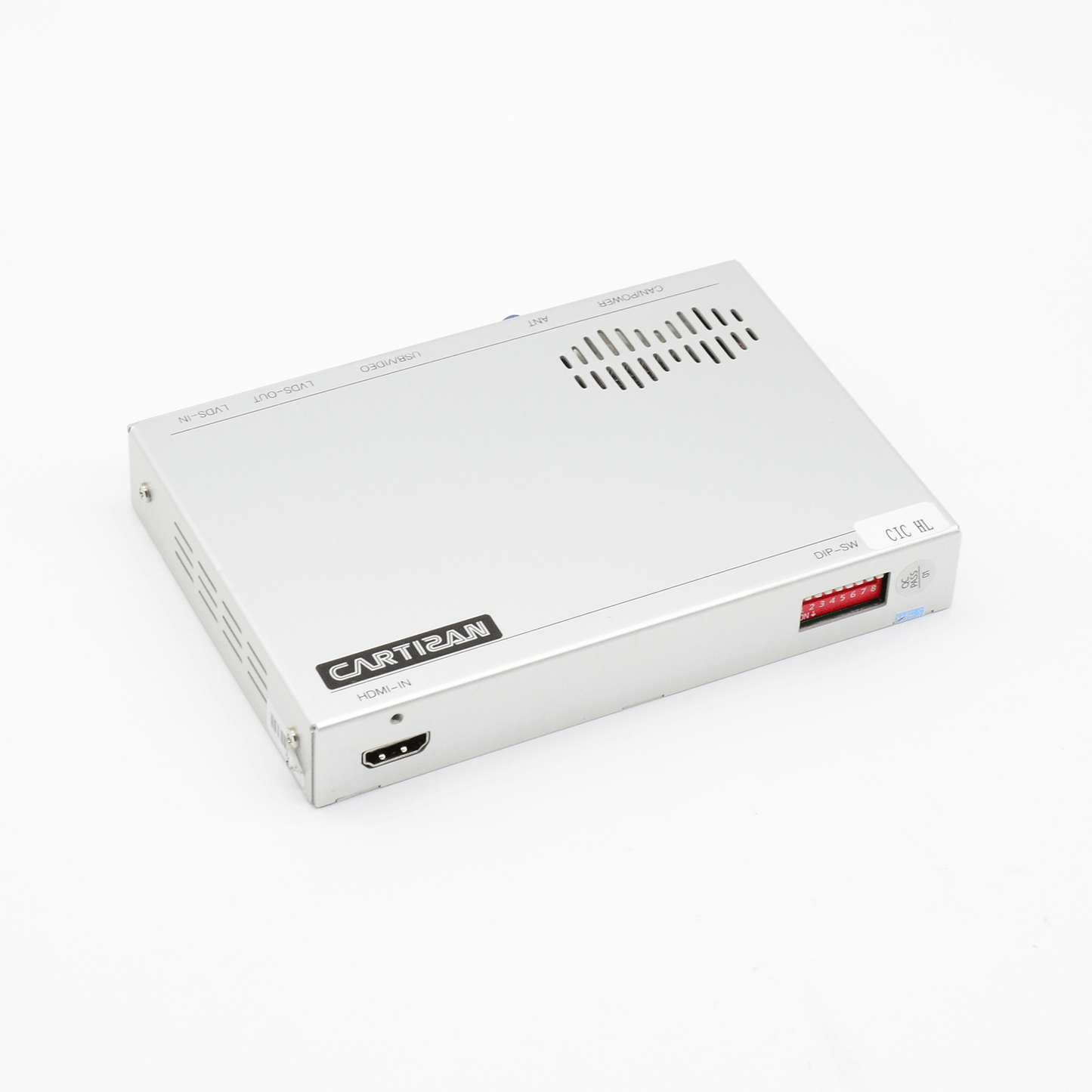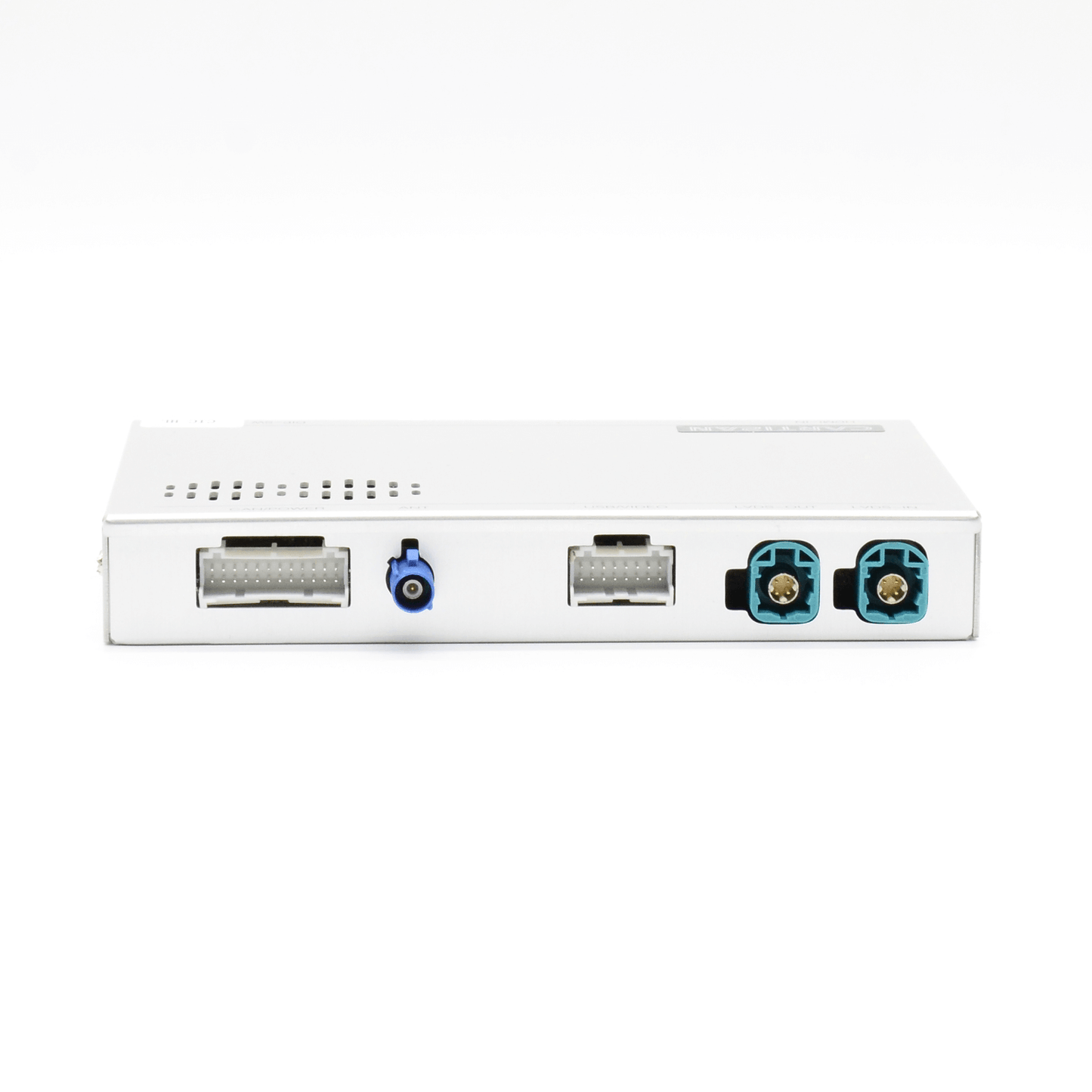 Cartizan BMW MMI
This is my second MMI I have bought from Wakaa. The interface on the Cartizen is more user friendly. I would highly recommend this MMI to all. I did not use the USB adapter. I had my head unit coded so AUX would function through Bimmertech that way no additional wires running to your USB port. Also you must transfer the two green wires over to the connector. People forget this step and they will have no sound.
carplay works but internal mic was not
Was unable to get the original BMW microphone working, and other external mics sound far worse. The package did not include an external microphone
Apple CarPlay & Android Auto MMI Prime Kit For BMW CIC/NBT/EVO
Cost Effective Android Auto MMI
I'm happy with the efficient delivery to South Africa which took less than a week from dispatch. The MMI works brilliantly and I couldn't be happier. I can safely say I recommend it
CarPlay and backup camera
I recieved the CarPlay and installed it and don't have any issue but the backup camera was not recieved and it was a different item in the box which was a idrive control. I ask what to do with this wrong item that was sent to me and it was answered back for a different reason. I believe the guy who read my issue don't understand. And until now, this issue was not been resolve. And now I ordered again a back up camera which is on the way. Hope this will be a correct item. Please